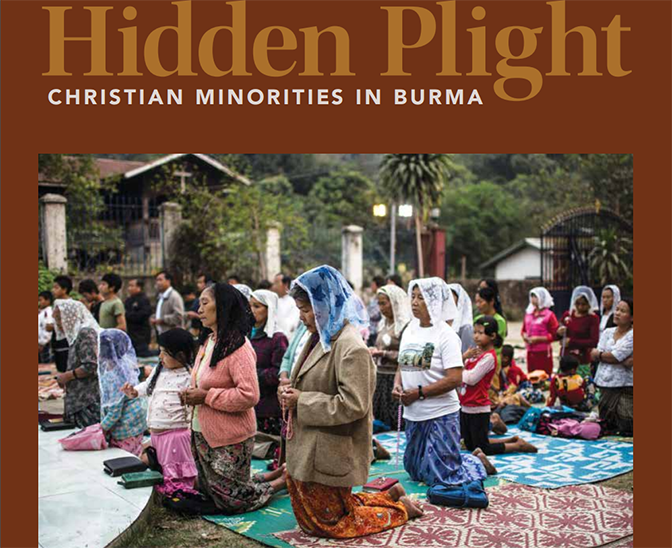 The enduring, constitutionally entrenched power of the military and the elevation of Buddhism as the de facto state religion are key factors in understanding violations of religious freedom currently affecting Christian communities in Burma.
Many of the discriminatory policies and practices instituted under the military regime continue today. The renamed Ministry of Religious Affairs and Culture, the military-run Ministries of Border Affairs and Home Affairs, and the military itself are directly responsible for religious freedom violations. The Committee for the Protection of Race and Religion, better known as Ma Ba Tha, and other ultra-nationalistic monks have played a key role in abusing the right to religious freedom and inciting violence against Christian pastors and missionaries.
Discriminatory restrictions on land ownership for religious purposes affects Christian communities across Burma. Militarized bureaucratic procedures are designed to obstruct permission for land ownership rather than facilitate it. In order to have a place to gather for worship, Christian communities have no other choice but to circumvent the restrictions. In some majority Buddhist areas—especially the Ma Ba Tha heartlands— Christians are almost entirely unable to congregate for worship, resulting in violations of freedom of religious assembly. Such violations are taking place in the context of continued state spending on the construction of pagodas and monasteries as part of the state's promotion and propagation of Buddhism.
This report documents incidents of intimidation and violence against Christians, the forced relocation and destruction of Christian cemeteries, violent attacks on places of worship, and an ongoing campaign of coerced conversion to Buddhism, particularly in Chin and Naga areas. In Kachin areas, religious freedom violations are inextricably linked to the ongoing conflict and its root causes. The military routinely occupies churches and summons entire congregations for interrogation. Tatmadaw (Burmese Army) troops have desecrated, damaged, and destroyed churches. The military continues to perpetrate grave human rights violations with near total impunity, including sexual violence in church compounds and the torture of pastors, church workers, and ordinary civilians. To date, approximately 120,000 people have been forced to flee. After more than five years of conflict, many Kachin face protracted displacement and are desperate to return home. As long as the conflict continues, there is no real prospect for internally displaced persons (IDPs) to return in safety and with dignity.
These issues underscore the major challenge facing Aung San Suu Kyi's National League for Democracy (NLD) government: bringing the military under civilian control. Undertaking substantive reforms to ensure religious freedom for all—in law, policy, and practice— must be a cornerstone of ongoing peace and national reconciliation efforts in Burma.
Click the links to download the full report. [ English ] [ Burmese ]
https://ndburma.org/wp-content/uploads/2018/03/hidden-plight-cover.png
548
672
ND Burma
https://ndburma.org/wp-content/uploads/2020/04/ndbLogo-296x300.png
ND Burma
2016-12-16 16:12:23
2018-03-20 16:14:21
Hidden Plight: Christian Minorities in Burma