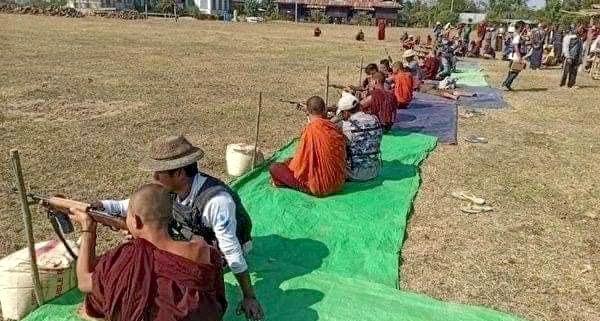 Residents say the monks are helping to form the groups and even receiving weapons training.
Ultranationalist Buddhist clergymen, including outspoken monk Wirathu, are throwing their support behind the pro-junta Pyu Saw Htee militia in its fight against prodemocracy paramilitaries in Myanmar's Sagaing region, including by undergoing weapons training clad in saffron robes, residents said Monday.
Members of the prodemocracy People's Defense Force (PDF) paramilitary group have demonstrated some of the fiercest resistance to junta troops and their militia-backed offensive in Sagaing since the military seized power in a Feb. 1, 2021, coup. The military is better equipped and has embarked on a scorched earth campaign in the region with the help of the Pyu Saw Htee, but residents say that a new tool has been added to its arsenal: hardline monks from the Ma Ba Tha group.
A video recently went viral on social media in Myanmar purportedly showing members of the Ma Ba Tha on a "tour" of several pro-junta villages in Sagaing in support of forming Pyu Saw Htee units. The video appears to show the monks helping to train people and delivering Buddhist sermons.
In one clip, Ma Ba Tha leaders known as "sayadaws" — including Wah Thawa, Wira Raza, and Pandita — appear to be holding guns in their hands and telling residents that the PDFs are killing people and setting fire to villages. One monk is heard to say, "Wirathu himself visited the villages yesterday and raised the morale of residents."
Sources told RFA's Myanmar Service that the footage was filmed on Feb. 27 at the Yadanar Kan Myint Htei Monastery during a Pyu Saw Htee training camp graduation ceremony in Taze township's Kabe village. They confirmed that pro-junta monks have been "carrying guns" and "taking part in some of the fighting" in the region.
An eyewitness from Taze's Kyunle village told RFA that the Pyu Saw Htee groups were "led by Ma Ba Tha monks" and that "Wirathu is involved."
"There are Pyu Saw Htee and Ma Ba Tha monks," he said, speaking on condition of anonymity.
"These monks are not local monks. All the local monks are gone. They have fled to safety. Some villagers said they saw Wirathu. [Such actions are] totally against the rules observed by the [Buddhist clergy] and we condemn it."
According to the eyewitness, nearly half of the 350 houses in Kyunle are pro-military and mostly Pyu Saw Htee. Residents who do not support the Pyu Saw Htee have "fled their homes," he added.
Another resident of the area who declined to be named said the armed monks had summoned Taze's inhabitants to the Yadanar Kan Myint Htei Monastery and Kyunle's Lay Thar Monastery and told them not to accept the PDF.
"Since the local monks fled the Yadanar Kan Myint Htei Monastery, they took over the place and tried to turn the villagers against the PDFs," he said, adding that "all the monks" at the Lay Thar Monastery are junta supporters.
Pro-military 'from the beginning'
Tayza Nanda, an abbot of the pro-democracy Spring Revolutionary Monk Network in Taze, told RFA that the Ma Ba Tha sayadaws are working in the region with the support of the military.
"These monks have been backed by the military from the beginning," he said. "What they are saying and doing now is all in line with Wirathu's preaching and now they are taking up arms. They are [junta chief Sen. Gen.] Min Aung Hlaing's followers who support evil.
"Real monks can't even preach to those who carry weapons, let alone carry arms themselves," Tayza Nanda added.
RFA could not independently confirm allegations that Wirathu is involved with the Pyu Saw Htee. Attempts to contact Wirathu went unanswered Monday.
Junta Deputy Information Minister Maj. Gen. Zaw Min Tun confirmed to RFA that militia groups had been formed "to protect these villages from PDF attacks."
"Since the PDFs are threatening villages that do not support them, we have formed militia groups there to provide security for these villages," he said. "We have not provided monks with weapons. There is no reason to do that."
Zaw Min Tun noted that he had never "said a word before about the PDF-supporting monks who reside there and are carrying arms," without providing details about his claims.
A member of the Taze PDF told RFA that on March 6 his group attacked a Pyu Saw Htee unit led by sayadaw Wah Thawa in Kabe village, and that the unit "fled with many wounded."
"Wah Thawa is no longer in the area. He has fled to Kanbalu. Wah Thawa, who was seen in the footage with a pistol and bullet-proof vest, was the leader," he said. "Monks hold even more authority in rural areas than village administrators, so [the junta] tried to use the monks to do their organizing of Pyu Saw Htee units."
The Taze PDF member said the Pyu Saw Htee and the Ma Ba Tha group attacked small villages in the area, including Kyunle and Kabe, and had "forced the locals to join them."
Using religion for political gain
Rajadhamma, an abbot with the Buddhist Mandalay Sangha Union, said Wirathu had cultivated close ties in the past with the monk leaders of the Pyu Saw Htee group in Sagaing — Wah Thawa, Wira Raza and Pandita.
"All three of them used to live close to Wirathu in the past. We can even say that they are the actual leaders of this group," he said. "Now they are taking weapons training for killing others. Holding guns and learning how to shoot is completely inappropriate for our religion."
Ultranationalist Buddhist monk Wirathu was charged by the deposed National League for Democracy government with sedition in May 2019, but the charges were dropped by the junta in September 2021 and he was set free. He is currently touring towns in Mandalay and Bago regions, and witnesses say the military has provided him security.
Political analyst Than Soe Naing told RFA that reports of the Ma Ba Tha's involvement with the Pyu Saw Htee suggest the militia is using religion for political gain in Myanmar, a Buddhist-majority country.
"The majority of people in our country are Buddhists and they all love and respect the monks, so [the military is trying] to use the monks for their benefit," he said. "We have never heard about an entire group of monks taking up arms training."
Myanmar's military has killed at least 1,672 civilians since the coup and arrested nearly 9,625 others — mostly during peaceful anti-junta protests.
According to a report issued last week by Data for Myanmar, a research group that documents the impact of conflict on communities, pro-junta forces have burned more than 6,700 houses to the ground in 186 locations in nine regions and states since the military coup. Last month, the group said most of the junta-sponsored arson had occurred in Sagaing region.
Last month, a post went viral on social media that allegedly showed a leaked document from the junta's Northwest Military Command ordering the delivery of more than 2,000 weapons to 77 pro-junta militia groups and calling for the formation of more militia units in remote villages in Sagaing. RFA was unable to independently confirm the authenticity of the document.
Reported by RFA's Myanmar Service. Translated by Khin Maung Nyane. Written in English by Joshua Lipes.
https://ndburma.org/wp-content/uploads/2022/03/saging-monk.jpeg
450
600
ND Burma
https://ndburma.org/wp-content/uploads/2020/04/ndbLogo-296x300.png
ND Burma
2022-03-14 08:04:35
2022-03-15 08:06:03
Hardline monks tied to pro-junta militias in Myanmar's Sagaing region