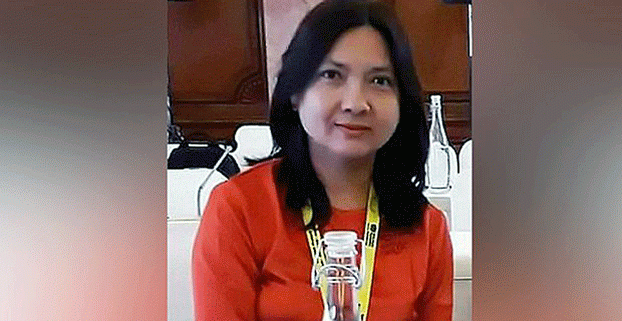 Dr. Htar Htar Lin allegedly returned a vaccine and immunization grant.
The head of the COVID-19 virus vaccination program of Myanmar's ousted government has been sentenced by the military junta to three years in prison with hard labor for actions to resist the army takeover, according to the country's Anti-Corruption Commission.
Dr. Htar Htar Lin, a former director of Myanmar's Public Health Department, was arrested in Yangon in June 2021, four months after the army overthrew the elected government, along with other senior medical figures who had acted in support of the Civil Disobedience Movement, a campaign of professionals resisting junta rule with work stoppages and other actions.
The physician allegedly ignored ministerial orders when she returned a vaccine and immunization grant of 168 million kyats (U.S. $91,000) from UNICEF and the World Health Organization on Feb. 10, 2021, nine days after the coup, the online journal The Irrawaddy reported Thursday, citing junta-controlled newspapers.
The same day, the commission also sentenced retired Dr. Soe Oo, former director-general of public health, to two years in prison for failing to investigate Htar Htar Lin.
The junta's Anti-Corruption Commission set up set up a team on April 20 to investigate Htar Htar Lin and other officials of the Ministry of Health and Sports.
Since June 2021, junta authorities have charged Htar Htar Lin with three more charges that carry penalties of up to 20 years in prison, including high treason and incitement and under the Unlawful Associations Act for allegedly assisting the shadow National Unity Government (NUG), which the junta has designated as a terrorist group, The Irrawaddy reported.
The military regime has targeted medical professionals, killing some, arresting dozens of others, and driven hundreds more into hiding since it overthrew the elected government more than two years ago, undermining the fight against the coronavirus pandemic, doctors in Myanmar told RFA in a September 2021 report.
https://ndburma.org/wp-content/uploads/2022/04/image1.gif
349
622
ND Burma
https://ndburma.org/wp-content/uploads/2020/04/ndbLogo-296x300.png
ND Burma
2022-04-22 09:26:04
2022-04-26 09:27:26
Former national immunization director sentenced to 3 years in prison by Myanmar junta