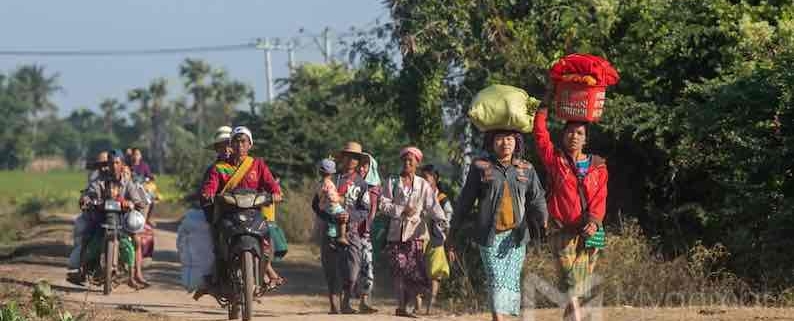 Thousands of local residents—as well as volunteers from aid organisations—have been displaced by military shelling and airstrikes that began in Shwegu Township, Kachin State last week amid clashes with resistance forces.
People from at least seven villages south of the town of Shwegu—including Hnget Tadar, Si Thaung, Man Wein, Nam Lang, Nawng Let Gyi and Si Mu Gyi—have fled the fighting. A 40-year-old local man said the military's rockets and heavy artillery shells had hit civilian targets.
"My nieces from Man Wein were forced to flee to Shwegu, and they told us that the military's bomb attacks had hit the monastery and most of the people had fled into the forests," the man said, speaking on condition of anonymity.
With volunteers from local and international aid organisations also currently displaced, accurately estimating the number of internally displaced persons (IDPs) or families has proved difficult.
Battles between March 23 and 26
On March 23, two junta columns initiated an assault on several villages near the border between the Shan and Kachin states just south of Shwegu, which is located on the bank of the upper Ayeyarwady River.
The force was made up of some 50 soldiers of Light Infantry Battalion (LIB) 10 and some 80 soldiers of Infantry Battalion (IB) 77, Light Infantry Division (LID) 88.
Fighters of the Shwegu Township People's Defence Force (PDF) attacked the LIB 10 troops in Hnget Tadar village just south of Shwegu, at around 9am, according to a PDF member.
"We put our troops in position as soon as they stepped into Hnget Tadar. They started shooting at around 9am and we counterattacked using drones. I heard that their battalion commander, Major Aung Aung, was killed," the PDF fighter said.
Myanmar Now has yet to confirm the death of the junta officer independently.
The PDF claims to have had the collaboration of the Kachin Independence Army (KIA), which provided military training and weapons for them, in the attack.
The two junta columns attacked other villages with heavy artillery shelling outside Shwegu's southern edge on March 25—including Si Mu Gyi, Nam Lang and Man Wein—after which a clash broke out with the alliance of revolutionary forces.
The battle lasted some two hours, during which the military carried out airstrikes using two fighter jets at around 3pm, according to locals.
Six projectiles landed in Man Wein during the airstrike, which destroyed one building, and two landed in Si Thaung village just south of Man Wein, destroying two houses and killing five cows.
The IB 77 troops remained stationed in Nam Lang, while the troops of IB 10, having sustained heavy losses, withdrew north to Nawng Let Gyi village before falling under attack again by the PDF and their allies on March 26.
The resistance fighters estimated that they had killed over 20 junta soldiers in these battles. One member of the resistance alliance was also killed.
"The battle is still ongoing. They're still not retreating and have taken shelter in Nam Lang. This is the sixth day of fighting," a member of the Shwegu-based Kachin People's Defence Force told Myanmar Now on Tuesday.
The junta force inside Nam Lang also reportedly torched and destroyed two houses in the village, slaughtered and ate livestock, and looted various civilians' houses, according to local sources.
The military council no longer responds to claims about killings, arson, or looting committed by their soldiers. However, in a speech given on Monday for Armed Services Day, junta leader Min Aung Hlaing said the military would take "decisive action" against ethnic armed forces aiding the PDF.
The Battle in Banmauk
Battles have also broken out since last week between junta troops and an anti-junta alliance of PDF and people's defence teams in Shwegu and nearby townships, including Banmauk Township, Sagaing Region.
A junta column of more than 100 soldiers departed from Banmauk on March 24. Two days later the column raided Kyaungle village, located 20 miles to the northwest, according to a local man with connections to the PDF and the people's defence teams.
He said military aircraft bombed the hills near the village, where they believed resistance forces were hiding, later the same day.
"There's a hill called Htone Taung between Kyaungle and another village nearby. They thought the PDF were on that hill and bombed the hill at around 3pm, but no locals were injured," he said.
The column in question remained stationed in Kyaungle until Tuesday of this week, blocking the Banmauk-Indaw road and trapping local residents inside the village, according to the aforementioned Banmauk local.
The clashes in Shwegu and Banmauk occurred amid a broader campaign of attacks by resistance forces in several neighbouring townships—including Banmauk, Indaw, Katha, Myohla, and Shwegu—on junta columns running reinforcements, weapons, and supplies into Sagaing Region and Kachin State via the Ayeyarwady River.
Last week the United States and United Kingdom imposed new sanctions on junta cronies Tun Min Latt and his wife Win Min Soe, their companies in and affiliated with the Star Sapphire Group, and other suppliers of aircraft fuel, arms, and equipment to the Myanmar military.
Human rights and pro-democracy activists have persistently appealed to foreign governments for stricter sanctions on individuals and entities enabling the junta's abuses with supplies of jet fuel and other vital materiel.
https://ndburma.org/wp-content/uploads/2023/04/khin-U-IDPs2.jpg
407
794
ND Burma
https://ndburma.org/wp-content/uploads/2020/04/ndbLogo-296x300.png
ND Burma
2023-04-03 07:58:37
2023-04-03 07:58:38
Continuous fighting near Shwegu displaces thousands of civilians