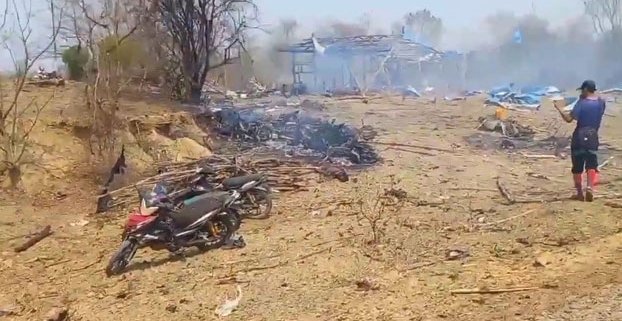 Around 70 residents remain in hiding after the April 11 assault.
The death toll from a military airstrike in northern Myanmar's Sagaing region on civilians has nearly doubled to an estimated 200 people, a local member of the People's Defense Forces told Radio Free Asia on Monday.
During the April 11 attack, jets bombed and helicopters strafed the opening ceremony for a public administration building in Pa Zi Gyi village. It was the latest example of the junta's increased use of air power in their conflict with armed resistance groups amid falterning progress on the ground.
"Nothing was left of some people who died in the air strike," said a member of a local People's Defense Force, who declined to give his name so he could speak freely.
"As far as we can confirm, there were over 170 people dead up to yesterday's update, but when we can take the missing people into account, we can say that the total is about 200," he said.
He said it would be difficult to ascertain an exact toll given that many body parts were missing, and because surviving villagers had fled. The village had about 300 residents.
About 70 Pa Zi Gyi residents who fled their homes remain sheltering in forests, and resistance groups and aid workers are providing them with food supplies from nearby villages, he said.
And as of Sunday, six more of the injured people died, while others are being treated by medical teams linked to the shadow National Unity Government, or NUG, a group of former civilian leaders and others opposed to the junta's rule.
Now, local resistance fighters will advise other villages not to open administrative offices and will instruct residents about defending themselves should the junta launch further air attacks and build air raid shelters.
"We are going to pass it on to as many villages as possible," the member of the People's Defense Force said. "The military junta's attack on these defenseless villages with no presence of resistance is entirely unacceptable."
The new count comes a day after the National Unity Government reported that 168 people, including 40 minors, had been killed in the air attack.
At a news conference on Sunday, the NUG said that the dead included six children under the age of 5, 19 children between ages 5 and 14, five children between ages 14 and 18, and 10 children whose ages could not be identified.
The shadow government also said that medical personnel had been sent to treat the 16 civilians who were injured, including children.
The NUG said it would make efforts to ensure justice in the deadly assault, which forced more than 300 villagers in all to flee.
Pa Zi Gyi villagers whose family members were killed in this attack are asking the international community to take effective action against the perpetrators and not to sell jet fuel, weapons or ammunition to the junta.
https://ndburma.org/wp-content/uploads/2023/04/dedsg.jpg
350
622
ND Burma
https://ndburma.org/wp-content/uploads/2020/04/ndbLogo-296x300.png
ND Burma
2023-04-17 08:41:02
2023-04-18 08:42:16
Death toll from Myanmar junta air attack on northern village rises to 200