Updated 3 March 2021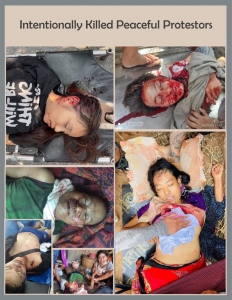 The Assistance Association for Political Prisoners (AAPP) pays respect to the heroes who sacrificed their lives and liberty to fight for democracy and human rights.
As of March 3, a total of (1498) people have been arrested, charged or sentenced in relation to the military coup on February 1. Of them, (4) were convicted; (2) to two years imprisonment, (1) to three months and (1) to seven days. (61) have been charged with a warrant and are evading arrest, (306) were released. A total of (1192) are still under detention or have outstanding charges/evading arrest, including the (4) sentenced. Up until now, more than (50) people have been killed due to the violent and arbitrary crackdowns.
In today's detainee list, we received and documented the names of (183) people. However, in Yangon alone, over 400 protestors were arrested during the crackdown and were detained in Kyaikkasan Stadium, in total 800 people detained across the country. We will continue to investigate these and make appropriate announcements when.
Despite the junta sponsored terrorism against peaceful protestors in the day and night, the people continue with their peaceful protests against the military coup across the country. The junta regime's brutal crackdown has increased against peaceful protests since 1 March.
Today, the coup regime violently assaulted peaceful protestors in Yangon, Mandalay, Pyin Oo Lwin, Myingyan, Monywa, Mawlamyine, Loikaw, Yay, Myitkyina, Hpakant, Pyay, Pathein, Taung Twin Gyi, Shwebo, Myan Aung and Salin Township. During the crackdown, people were met with stun grenades, smoke bombs, tear-gas, rubber bullets, and live ammunition. In particular in Yangon, Mandalay, Myingyan, Monywa, Mawlamyine, Pyin Oo Lwin, and Hpakant where live ammunition was fired.
Per the consequences of these crackdowns, a 20-year-old boy was shot dead in the head and 18 others were injured in Myingyan Township, a 19-year-old girl was shot dead in the head and a 39-year-old man was shot dead in the chest, 8 others were seriously injured in Mandalay, 6 people including 2 women and one 17-year-old boy were shot dead in the head, chest and back and at least 10 others were injured in Monywa Township, another youth was shot dead and at least 8 others were injured in Salin Township. Two people were shot dead and some people were injured in Pyin Oo Lwin Township. Around seven 20-year-old youths were shot dead and 20 others seriously injured in North Okkalapa Township, in one video, junta forces were captured leading one away and shooting in the back of his head, detained and unarmed. Another man was seriously injured in Hlaing Thar Yar Township, one was injured in Tamwe Township, three were injured in Insein Township, 10 were injured in Tharkayta Township, Yangon. 1 was injured in Pathein. At least three young protesters were injured and two are in critical condition in Hpakant Township. One person was shot dead and another one was injured in critical condition in Mawlamyine Township. The number of injured persons is likely much higher than currently accounted, it is estimated to be around 100.
In North Okkalapa Township today, so-called police and military soldiers set fire to tires across the road and four volunteers from the MonMyatSeikHtar Ederly Care Charity vehicle were viciously beaten with guns to the heads. Among them, one of them passed away due to serious injuries.
The military and so-called police are making an enemy of the peaceful protestors, terrorising and directing their guns towards peoples face, chest, head, back and abdomen. The armed personnel directed random shots towards the crowd of peaceful protests in an intentional manner. They dragged dead bodies and forcibly detained injured people, neglecting any medical care, violently beating and arresting people, shooting randomly into people's houses with no reason, looting and arsoning public property. The junta regime commits these acts every day against peaceful protestors and the general public. Nowadays, the public areas turn into battle fields as well as killing fields.
Much evidence clearly shows that police and military act as terrorists, they have no respect for human dignity or humanity, only brutality. They do not comply with domestic or international laws and morals. They violate every standard, the junta coup terrorist must be held accountable for every crime they commit. Strong and effective action against the juntas violations must be taken as soon as possible, until then Burma's people will continue to be victims.
In Taungdwingyi township last evening, Magway Region, Ko Thiha Zaw (a.k.a Naung Naung), a 16-year-old, was killed because the military shot live ammunition at the youths. Some youths were injured and arrested and their motorbikes seized.
AAPP will continue to keep you informed of verified daily arrests, charges and sentences in relation to coup, and update our lists to the details of these alleged offences. If you receive any information about detentions of, or charges against CSO leaders, activists, journalists, CDM workers and other civilians in relation to the military and police crackdown on dissent. Please submit to the following addresses:
Email : info@aappb.org
Facebook : https://web.facebook.com/burmapoliticalprisoners/
Twitter : https://twitter.com/aapp_burma
In Solidarity,
AAPP
Download link for Fatality list
Download link for Recent Arrest list Updated on 3 March 2021
https://ndburma.org/wp-content/uploads/2021/03/3march.jpg
355
1224
ND Burma
https://ndburma.org/wp-content/uploads/2020/04/ndbLogo-296x300.png
ND Burma
2021-03-04 08:34:34
2021-03-04 08:36:19
3 March 2021 Daily Briefing in Relation to the Military Coup