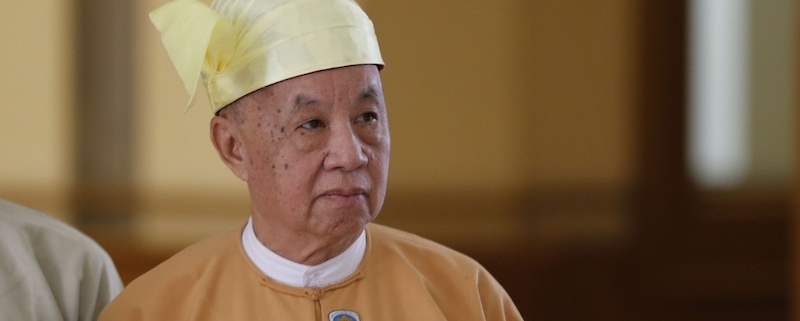 A court controlled by the military council sentenced the former deputy speaker of Myanmar's Lower House to 20 years in prison on Tuesday for alleged treason.
Seventy-three-year-old Tun Tun Hein is also a central executive member of the National League for Democracy (NLD) party, whose elected administration was ousted in the 2021 military coup. At the time of his conviction, he had been detained at the main prison in Lashio, northern Shan State, for nearly 22 months.
A judge serving under the coup regime convicted the parliamentary official of high treason under Section 122 of the Penal Code bringing his total prison term to 24 years. He had previously been convicted of two incitement charges last December, for which he was sentenced to four years.
Tun Tun Hein is awaiting trial for another charge related to alleged electoral fraud, according to a source close to his family.
The military initially placed him under house arrest in the administrative capital of Naypyitaw as the coup unfolded on February 1 last year. After one week, he was sent to his hometown of Nawnghkio in northern Shan State, but was again detained by the military on February 10 and imprisoned in Lashio.
The junta subsequently charged Tun Tun Hein with incitement, treason and electoral fraud—the statutes also used against other ousted NLD leaders including State Counsellor Aung San Suu Kyi, President Win Myint, and several chief ministers.
Tun Tun Hein reportedly suffered two strokes—in 2017 and 2018—and has been suffering from multiple cerebrovascular conditions, according to an interview with his daughter May Thingyan Hein published in Radio Free Asia's Burmese service in April 2021.
She said that her father had only been allowed by prison authorities to be seen by a general practitioner, rather than a medical specialist. She also explained that he had been denied bail, which was requested by his attorney on the basis of his medical needs.
Lower House speaker T Khun Myat was among the parliamentary leaders who, like Tun Tun Hein, were removed from their roles during last year's coup. However, the ex-MP for the military proxy Union Solidarity and Development Party was subsequently reappointedto his post by the junta.
Mahn Win Khaing Than, Upper House speaker until the military takeover, managed to escape arrest. He is currently Prime Minister of the publicly mandated National Unity Government.
Henry Van Thio, the second vice-president under the NLD, has not been heard from since the coup and his whereabouts remain unknown.
According to an NLD statement on November 8, the second anniversary of the stolen 2020 election, nearly 1,200 members of the party had been arrested by the military council, 67 of whom were killed in junta custody. 
https://ndburma.org/wp-content/uploads/2022/12/tun_tun_hein.jpeg
424
800
ND Burma
https://ndburma.org/wp-content/uploads/2020/04/ndbLogo-296x300.png
ND Burma
2022-11-30 09:55:22
2022-12-01 09:57:45
Tun Tun Hein, deputy speaker of the Lower House under the NLD, is convicted of treason, in addition to two previous counts of incitement