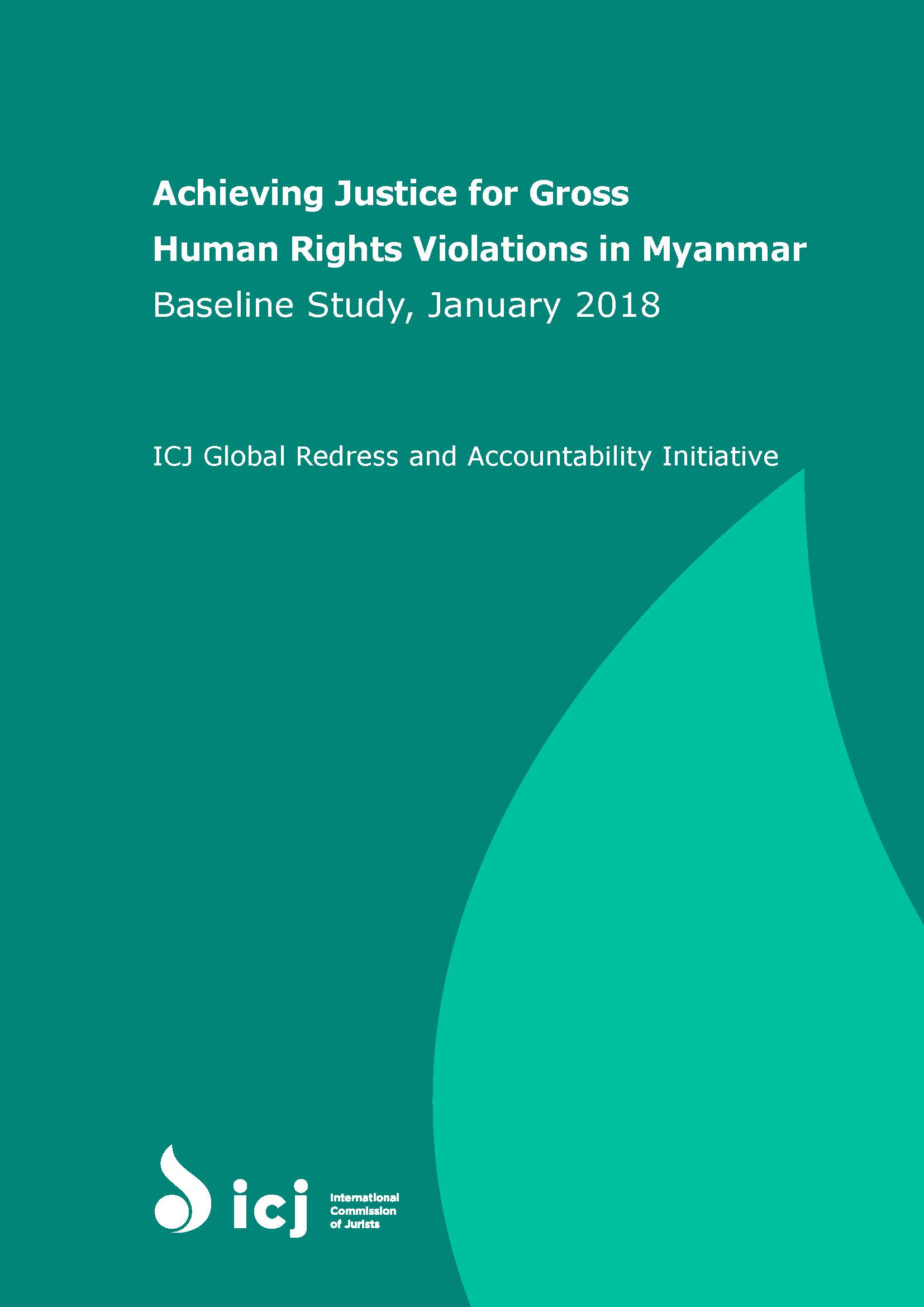 Myanmar's government must take concrete action to counteract decades of military impunity for human rights violations, the ICJ concluded in a report published today.
The report Achieving Justice for Gross Human Rights Violations in Myanmarfinds that gross human rights violations in Myanmar rarely go punished, particularly in conflict areas.
Justice remains elusive for victims and their families as a result of laws, institutions and investigative practices that protect members of security forces from prosecution, the ICJ says.
"Decades of denial of justice for victims of gross human rights violations in Myanmar, and impunity for the perpetrators, particularly when involving the military, have severely eroded the rule of law," said Sam Zarifi, the ICJ's Secretary General.
"The Myanmar government must now take concrete steps to combat impunity, especially for the military," he added.
The release of the ICJ's report follows last week's statement from the Office of the Commander in Chief of the Tatmadaw, Myanmar's military, acknowledging that security forces had participated in the killing of ten Rohingya Muslims in Rakhine State's Inn Dinn Village.
It is the Tatmadaw's first admission of serious crimes perpetrated by security forces during its 'clearance operations', which have resulted in mass displacement and human rights violations, following attacks on police posts by the Arakan Rohingya Salvation Army on 25 August 2017.
Military and security personnel in Myanmar seldom face justice for human rights violations, because they are protected by legal provisions of the 2008 Constitution, the 1959 Defence Services Act and the 1995 Police Force Maintenance of Discipline Law, which include immunities and special courts that shield soliders, police and officials from public criminal prosecutions for serious crimes, the ICJ notes.
The ICJ's report finds that investigations into allegations of rights violations rarely result in effective prosecutions or redress.
Eight case studies – from Kachin, Karen, Mon and Rakhine states – illustrate how victims and their families, as well as journalists and human rights defenders, lack access to justice and are even harassed for seeking it.
"Admission of culpability for this one incident is an important first step and must be followed by a full and proper investigation, and justice for the victims and their families," said Zarifi.
"The dire human rights situation in northern Rakhine State, and in conflict areas such as in Shan and Kachin states, neccessitates credible, independent and impartial investigations with a view to publicly prosecute those responsible for unlawful acts and their commissioning."
"Options available to the parliament and to the executive include addressing barriers to accountability, by reforming laws that protect security forces involved in serious crimes, and by aligning investigative procedures with international standards," he added.
Contact
Alex Conte, ICJ Global Accountability Coordinator (Geneva), t: +41 79 957 2733; e: alex.conte(a)icj.org
Frederick Rawski, ICJ Asia Pacific Regional Director (Bangkok), t: +66 6 4478 1121 ; e: frederick.rawski(a)icj.org
Background
Special inquiries comissioned by the Government of Myanmar into allegations of human rights violations generally fail the test of independence and impartiality, or are severely undermined by inadequate resources and or restricted mandates.
These inquiries rarely result in effective prosecutions or access to remedies and reparation.
Members of security forces, when prosecuted, usually appear in military or special police courts, which generally impose low or meaningless sanctions that are wholly inconsistent with penalties applicable in Myanmar's Penal Code.
Laws governing military and police acts are inadequate for the victims of human rights violations because they do not contemplate the provision of remedies and reparation.
There is very limited precedent or established practice for the provision of effective remedies or reparation for victims of criminal acts in Myanmar, particularly when such crimes involve human rights violations by State actors.
Wittingly or unwittlingly, relevant authorities routinely violate national laws that prescribe procedures for the conduct of criminal investigations and prosecutions, particularly in politically sensitive cases involving human rights violations.
Violations of basic fair trial rights, included in national laws, are commonplace.
State authorities continue to exert improper influence on politically-sensitive court cases including those involving allegations of gross human rights violations.
Courts tend to not intervene where human rights violations are occuring nor do they guarantee non-repitition where they have occurred.
Prosecutors rarely, if ever, accept petitions from victims of gross human rights violations to initiate criminal proceedings.
The judicial harrassment of victims of human rights violations is commonplace in Myanmar when victims, their families or lawyers seek remedies or reparation through the courts or other mechanisms.
Defamation and unlawful association are among the criminal charges commonly instituted by authorities, including against journalists investigating human rights violations or working in conflict areas.
Overall, Myanmar's prosecutors lack the independence to effectively prosecute acts involving human rights violations.
Interference with and intimidation of lawyers, particularly in politically sensitive cases involving human rights violations, undermines their to effectively represent clients and to pursue effective remedies and reparations.
Download
Myanmar-GRA Baseline Study-Publications-Reports-Thematic reports-2018-ENG (full report in PDF)
A Burmese version of this story will be added soon.
https://ndburma.org/wp-content/uploads/2018/01/Cover-from-Myanmar-Baseline-Study.jpg
2339
1654
ND Burma
https://ndburma.org/wp-content/uploads/2020/04/ndbLogo-296x300.png
ND Burma
2018-01-18 16:50:18
2018-01-18 16:50:18
Myanmar: reverse laws and practices that perpetuate military impunity – new ICJ report