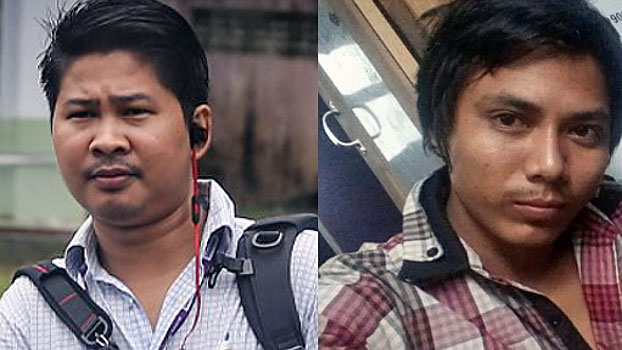 A Myanmar rights organization has filed a complaint with the U.N.'s human rights office about the detention of two Reuters journalists charged with violating the country's colonial-era Official Secrets Act.
The Assistance Association for Political Prisoners (AAPP), a group dedicated to the release of political prisoners in Myanmar, lodged the complaint with the Working Group on Arbitrary Detention (WGAD) under the Office of the United Nations High Commissioner for Human Rights (OHCHR) on Dec. 20, eight days after the arrests of Thet Oo Maung, also known as Wa Lone, and Kyaw Soe Oo.
Police have detained the pair for possessing illegal government documents about security forces in northern Rakhine state, where a military crackdown has driven hundreds of thousands of Rohingya Muslims into neighboring Bangladesh. They also have been accused of sending "important security documents regarding security forces in Rakhine state to foreign agencies abroad."
"We sent it [the complaint] because the arrest of two Reuters journalists violates Article 347 of Myanmar's Constitution as well as Articles 9, 14, 19, and 26 of the International Covenant on Civil and Political Rights," AAPP spokesman Myo Kyaw told RFA's Myanmar Service on Thursday.
Article 347 of Myanmar's 2008 Constitution guarantees equal rights and equal protection before the law.
The international covenant is a multilateral treat adopted by the U.N. General Assembly in December 1966 and put into force on March 23, 1976, which sets forth the rights of individuals who have been arrested and detained and ensures them the right to freedom of expression.
The Working Group looks into information submitted by NGOs, individuals, their families, or their representatives concerning the protection of human rights in alleged cases of arbitrary detention.
If it determines that an arbitrary deprivation of liberty has occurred, it issues an opinion to that effect and makes recommendations to the relevant government, which is given 60 days to respond to the allegations in terms of facts, applicable laws, and the outcome of any investigations that have been ordered.
On Wednesday, a courthouse in Yangon's Mingaladon township extended the detention of the two Reuters journalists by two weeks at their first hearing following 15 days of interrogation by police.
They are being held in Insein Prison on the outskirts of the commercial capital until their next court appearance on Jan. 10.
If they are found guilty of violating the Official Secrets Act, they could face up to 14 years in jail.

A question of entrapment
The two received the documents during a meeting in Yangon with two policemen who had been stationed in northern Rakhine. Though the two policemen with whom the journalists met just before their arrests were also taken into custody, they have not been charged.
A few days after the arrests, President Htin Kyaw issued an approval for police to proceed with the case against the journalists.
Yet on Dec. 18, the spokesman of the ruling National League of Democracy (NLD) party described the arrests as "entrapment" because Thet Oo Maung and Kyaw Soe Oo had been apprehended with the documents shortly after they finished their meal with the two officers.
But Thant Zin Aung, the attorney representing the journalists, said he doubts whether the arrests constitute entrapment.
"I have doubts about whether it is entrapment," he said on Thursday. "I have many things to talk about because we have been studying this case, and we learned new facts today, but I can't say what we've got now."
Thet Oo Maung's wife Pan Ei Mon on Thursday insisted that her husband had not done anything illegal during the course of his reporting.
"I know my husband hasn't done anything against the law," she told RFA. "I am just waiting for his release, but I don't know what to say."
The case has struck fear in the media in Myanmar, where a series of arrests of journalists or editors and defamation lawsuits against the media has taken place under the civilian-led government of de facto leader Aung San Suu Kyi.
"What I think is that authorities have threatened other journalists that they will act the same way if those journalists do what they don't want them to do," said Zayar Hlaing, editor of Mawkun Magazine, an investigative publication owned by the Yangon-based Myanmar Observer Media Group.
"We see their arrest as entrapment because they met the policemen, got papers from them, and then they were arrested soon after these policemen left them," he said. "They have been charged under the Official Secrets Act only because the police found these papers on them."
"It is a lie, and it is as if the police are stirring up a battle between the media and the people," he said.
Thein Than Oo, an attorney with the Myanmar Lawyers' Network, said the government has handled the situation poorly and agreed that journalists have a right to access information.
"First, the Ministry of Information didn't follow journalism ethics when it published news about these journalists in the newspaper," he said. "Second, it is not a crime when journalists work to cover news. They have the right to access information."
Also on Thursday, a group of 50 Pulitzer Prize-winning journalists called on authorities in Myanmar to immediately release the two reporters.
"Their arrest is an outrageous attack on media freedom," said a joint statement issued by the group. Wa Lone and Kyaw Soe Oo are brave, principled and professional journalists who were working in the public interest and were jailed simply for doing their jobs."
"We call on the Myanmar government to immediately release Wa Lone and Kyaw Soe Oo, reunite them with their families, and drop all charges against them."
Charges against others dropped
Meanwhile, a Myanmar court on Thursday formally dropped additional charges against two foreign journalists who have been serving time since their arrest in October for illegally flying a drone over the parliament building in Naypyidaw.
Singaporean journalist Lau Hon Meng, and Malaysian journalist Mok Choy Lin, their Myanmar interpreter, Aung Naing Soe, and driver, Hla Tin, were arrested on Oct. 27 as they worked on a documentary for Turkish Radio and Television Corporation subsidiary TRT World.
They are all serving two months in jail for violating Myanmar's colonial-era Aircraft Act and are scheduled for release on Jan. 5.
Naypyidaw's Zabuthiri township court had also charged them with illegally bringing a drone into Myanmar under the 2012 Import-Export Act, and the two journalists were further charged with violating Myanmar's Immigration Act on Nov. 27, after their visas expired while they were in custody.
On Tuesday, Myanmar police withdrew the additional charges related to the importation of the drone and immigration violations.
Domestic and international rights groups have criticized the NLD government for appearing to backpedal on press freedom in the still-developing democracy.
Myanmar ranks 131 of a total 180 countries in the latest World Press Freedom Index issued by the Paris-based group Reporters Without Borders (RSF), an NGO that promotes and defends freedom of information and freedom of the press.
Reported by Tin Aung Khine, Win Ko Ko Latt, and Khin Khin Ei for RFA's Myanmar Service. Translated by Khet Mar. Written in English by Roseanne Gerin.
https://ndburma.org/wp-content/uploads/2018/01/image.jpg
350
622
ND Burma
https://ndburma.org/wp-content/uploads/2020/04/ndbLogo-296x300.png
ND Burma
2017-12-29 10:18:21
2018-01-08 10:21:21
Myanmar Political Prisoners File Complaint With UN Rights Office Over Journalists' Detention