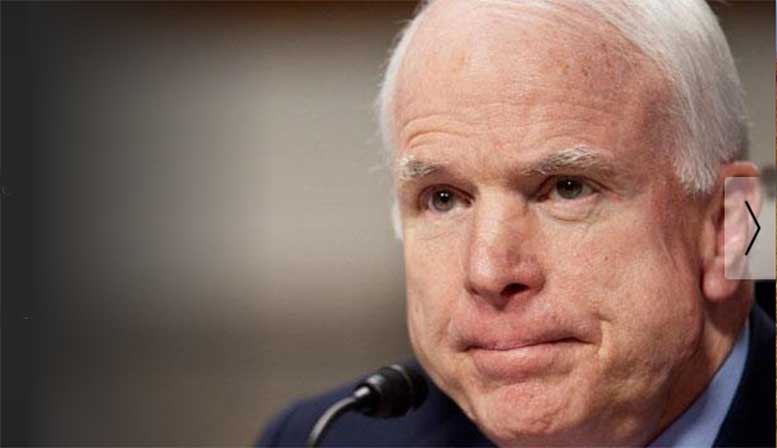 Feb

 

07

 

2018
Washington, D.C. ­– The Senate Foreign Relations Committee today passed legislation authored by U.S. Senators John McCain (R-AZ), Chairman of the Senate Armed Services Committee, and Ben Cardin (D-MD), a senior member of the Senate Foreign Relations Committee, to impose targeted sanctions and travel restrictions on senior Burmese military officials responsible for human rights atrocities against the Rohingya people.
The Burma Human Rights and Freedom Act would prohibit certain military cooperation with the Burmese military until the Departments of State and Defense can certify that officials have halted the violence. The bill would also support economic and security sector reform, and encourage Burma's successful transition of power to a civilian government.
"The scale of human rights abuses against the Rohingya people and other minority communities in Burma has been staggering," said Senator McCain, Chairman of the Senate Armed Services Committee. "The United States has a moral obligation to do all it can to prevent mass atrocities and ethnic cleansing—and to make clear to those responsible that their actions will not be tolerated. Our legislation's passage out of the Senate Foreign Relations Committee is a step in the right direction to protect Burma's fledgling democracy and hold accountable the senior military officials responsible for the slaughter and displacement of more than 680,000 innocent Rohingya men, women and children. It makes clear that the United States will not stand for continued atrocities and will support all Burmese peoples in their struggle for freedom and democracy."
"Today's passage marks a significant step in the right direction to recalibrate U.S. policy and engagement with Burma in light of the genocide and crimes against humanity that have taken place over the past several months against the Rohingya, as well as the broader challenges of a stalled political transition and genuine national reconciliation," said Senator Cardin, a senior member of the Senate Foreign Relations Committee. "This legislation is not meant to hurt the people of Burma or its economy, but instead hold specific senior military officials accountable. That is why the legislation also requires a U.S. strategy for promoting inclusive economic growth as a vital element of a strategy to help Burma complete its political transition and finally free itself of military control."
Senators Dick Durbin (D-IL), Todd Young (R-IN), Ed Markey (D-MA), Marco Rubio, (R-FL), Jeff Merkley (D-OR), Dianne Feinstein (D-CA), Brian Schatz (D-HI), Tim Kaine (D-VA), Chris Van Hollen (D-MD), Tammy Baldwin (D-WI), Cory Booker (D-NJ), and Jeanne Shaheen (D-NH), Chris Coons (D-DE), Susan Collins (R-ME), and Bob Casey (D-PA) also cosponsored the legislation.
Over 680,000 Rohingyas have been displaced to Bangladesh and thousands more have been killed due to a systematic campaign of executions, rape, disenfranchisement, expulsions and mass burning of villages by the Burmese military. This legislation will make it easier for the administration to impose sanctions on the Burmese military leaders who are implicated in some of the worst atrocities facing the international community in a generation. It will authorize humanitarian and reconciliation assistance to help address the crisis in the short and long-term, and, critically, requires a strategy on accountability measures for the ethnic cleansing and genocide that has, incontrovertibly, been committed. This legislation would enhance the administration's capacity to impose narrowly tailored and targeted sanctions and travel restrictions on specific military and security personnel implicated in the violence, perpetrators like the generals who exercised command and control over the ethnic cleansing campaign; and ground commanders in Rakhine State when the atrocities occurred.
"Ultimately, it is up to the people of Burma to decide what the fate of their country and democracy will be. But the United States Congress should not be complicit spectators to ethnic cleansing and gross human rights violations. For too long we have said 'never again,' but failed to act with resolve when confronted by mass atrocities. Congress has historically played an important role in promoting human rights and democracy in Burma – and it is time for us to step up again and provide leadership to support a successful transition to democracy," McCain and Cardin jointly added.
The administration doesn't have to wait for this law to pass. It has already used existing authorities to impose restrictions on one key officer implicated in the abuse and should take this cue from Congress to target other leaders now. The world has come to realize that the Burmese government – and in particular its military – are in a state of outright obstruction with respect to international calls to address the crimes committed in Rakhine State and will not take steps to address the past atrocities unless real world consequences make it impossible for them not to.
"The Committee's action today demonstrates to the world, and in particular to the Burmese military, that the U.S. will not ignore these atrocities. We encourage our colleagues in the Senate to help us enact this important measure into law," the Senators concluded.
S. 2060, the Burma Human Rights and Freedom Act:
States the U.S. policy of calibrated engagement, which supports a peaceful, prosperous, and democratic Burma that respects human rights of all of its people regardless of ethnicity and religion
Authorizes humanitarian and reconciliation assistance for the Rohingya, including refugees in Burma, Bangladesh, and the region
Instructs Treasury to only vote for international financial assistance projects that do not partner with the Burmese military owned enterprise
Sense of Congress calling on the Burmese government to ensure the right of returnees and to fully implement all of the recommendations of the Kofi Annan Commission
Codifies existing U.S. – Burma military to military cooperation restrictions unless certain certifications are met
Re-imposes the U.S. jade ban
Requires a report on which individuals should be placed on visa bans and on the SDN list for senior Burmese military officials. Mandates Treasury to sanction those individuals.
Requires a report on promoting inclusive and responsible economic growth and development in Burma
###
https://ndburma.org/wp-content/uploads/2018/02/jonmac.jpg
448
777
ND Burma
https://ndburma.org/wp-content/uploads/2020/04/ndbLogo-296x300.png
ND Burma
2018-02-08 12:16:59
2018-02-09 12:17:50
MCCAIN, CARDIN BILL ON BURMA ACCOUNTABILITY PASSES SENATE FOREIGN RELATIONS COMMITTEE