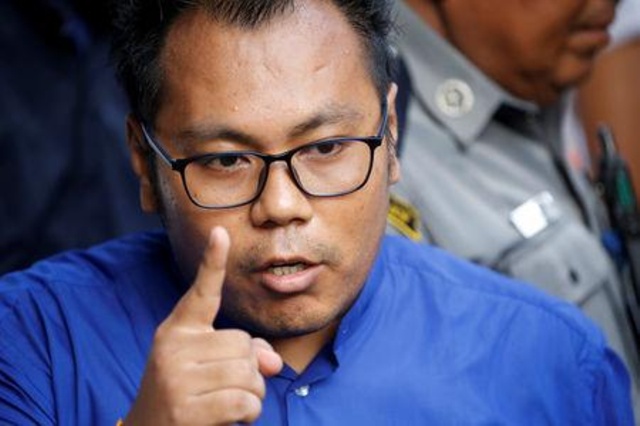 Letter from Zeyar Lwin and Paing Ye Thu members of the Peacock Generation in Myanmar
Seven members of the Peacock Generation—Kay Khine Tun, Zayar Lwin, Paing Pyo Min, Paing Ye Thu, Zaw Lin Htut, Su Yadanar Myint and Nyein Chan Soe —were arrested in April and May 2019 after they performed Thangyat, a traditional performance art akin to slam poetry during the Thingyan Water Festival in April. On 30 October 2019, five of them were convicted under Section 505 (a) of Myanmar's Penal Code at Mayangon Township Court in Yangon, Myanmar's largest city, and sentenced to one year in prison. Section 505 (a) of the Penal Code prohibits the circulation of statements and reports with the intent to cause officers or soldiers in the Myanmar Armed Forces to mutiny or otherwise disregard or fail in their duties
For livestreaming performances on Facebook, Zay Yar Lwin, Paing Phyo Min, Paing Ye Thu, Su Yadanar Myint and Nyein Chan Soe also face charges under Section 66 (d) of the Telecommunication Act for "online defamation". 
Members of the Peacock Generation are facing the same charges in five other townships in Yangon and Ayerwaddy Region where they have performed Thangyat and face a possible 19 years imprisonment. Below is their letter from jail: 
We are writing to you from the cells of Insein Prison, the notorious and largest prison in Myanmar. The seven of us were sued by the military and arrested after we performed the Thangyat, a traditional performance criticising the military.  We were convicted and sentenced to one year in prison by one court out of six and facing possible 19 years imprisonment.We knew we could face risks and the military had noticed our group for a year and were preparing to take action against us. So instead of just avoiding it, we decided to be more critical in our lyrics when we performed, and action was taken against us. Our senior activists had also been critical of the military and now its our time to do so.

When we heard of the charges, we went to the police station to allow them to detain us. We are also experienced with jails. First the military sued us in Mayangone and Botahtaung Townships, and later military in Pathein, Dedaye, Pyapon, Maupin townships from Ayeyarwaddy Regions also sued us under 505(a) and 66(d). When they sue us, it was not just one time. They sued us at different times and intentionally delayed the verdict process. Those court processes in Ayeyarwaddy Region have not yet begun. That means they want to lock up us for a long time. It's already been 6 months and only one verdict is out. And only two courts hearings are done.

We believe its not fair as even before the court decided on our innocence, we were already  in jail as criminals. Mentally it is hurting for those who are locked up in jail. We are trying to pass the days because we have strong beliefs, but it is difficult for others to be in jail.

They have convicted us with no strong evidence. This is not a fair case. Because it is a case against the military, whatever we do, we will definitely be sentenced. Because in my country, nobody is treated fairly and equally by the law when the case is against military. We believe we didn't commit a crime by performing Thangyat. This is the case of criticizing and resisting an oppressive institution – the military. We will never be silenced just because they jailed us or sentenced us this way.

We will keep criticizing and pointing out the flawed system in different ways because it is important for us to amend the constitution and to get the military out of politics so that we can pursue genuine democracy in Myanmar.

Thankfully we have people supporting us mentally and physically. They are all our colleagues, students, friends and families. Because of those support, we can stand these days. Lawyers support us legally.

When we talk about freedom of expression, there very little space and we still have to work a lot to have that freedom. We understand that our rights shouldn't harm others. We admit we strongly criticized the military, but why we were criticizing them strongly was because military leaders and their institution have obtained power unfairly and are harming our own people. Freedom of expression in Myanmar is like a tortoise trying to get carried by a flying stick held by two crows on both ends. We can talk about freedom of expression, but if we really express ourselves, we can get jailed. That's the current situation.

To all the international organizations and institutions that want to help "democracy" in Myanmar, do whatever you can to help us please. The important thing is to influence the military. Only by influencing them, we can help them move in the right direction or else, things will get worse in future. Please speak up more for the situation in Myanmar.

Instead of asking you to specifically to help our case, we want to ask if you help democracy and politics in Myanmar, and when it is improved, we will be part of the journey too. There are many others who are currently  jailed in Myanmar. Thank you for your support and solidarity near and far and for helping change our country.
Zeyar Lwin and Paing Ye Thu members of the Peacock Generation in Myanmar
Translated by Thinzar Shunlei Yi a Youth Advocate and Activist from Myanmar
https://ndburma.org/wp-content/uploads/2019/11/image_kbn1xs1c9.jpg
426
640
ND Burma
https://ndburma.org/wp-content/uploads/2020/04/ndbLogo-296x300.png
ND Burma
2019-11-15 09:38:51
2019-11-19 11:41:52
Letter from Jail: Members of poetry troupe in Myanmar