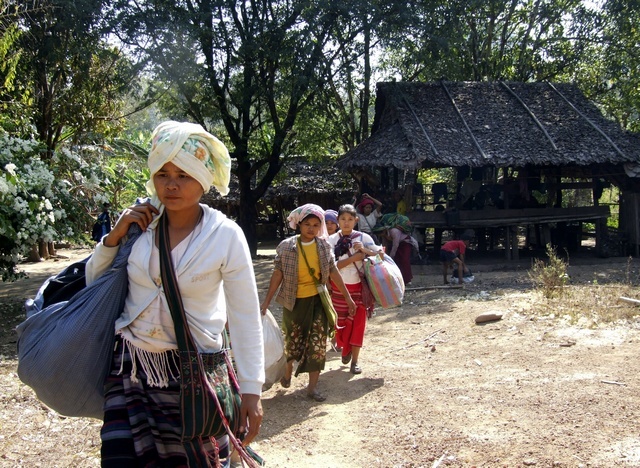 An alliance of rights groups revealed on Thursday that they have documented 103 cases of human rights abuse in Burma since the start of 2014.
A 21-page report by the Network for Human Rights Documentation-Burma (ND-Burma), released on Thursday, claimed that violations are still "rampant" in conflict areas as well as in territories currently under ceasefire agreements.
Among the documented violations, which the group said are "just a fraction of the true number of human rights abuses", are cases of rape, land confiscation, human trafficking and torture.
ND-Burma is a 12-member alliance of rights organisations from all over the country, some still working in exile in neighbouring Thailand. The group, which has operated as a rights watchdog for Burmese citizens since 2004, collected information from fieldworkers in eight of the country's 14 administrative divisions from January to June 2014.
The most frequent abuses documented, the report says, were unlawful land acquisitions in ethnic areas. Thirty-six cases of land-grabbing were reported, a number that the group said is "almost certainly a low estimate".
Fourteen killings and 14 instances of torture were also reported.
Sexual assault committed by the Burmese military remains a serious concern in many of Burma's ethnic areas despite progress towards achieving a nationwide peace deal, the report said. In Mon State, eastern Burma, local researchers reported that an ethnic Mon woman was abducted and beaten by a Burmese army corporal in early January — just weeks after another woman was assaulted by a soldier in the same township.
The report said that the woman bit her attacker's arm when he attempted to rape her. The corporal then "retaliated by severely beating the woman", leaving her with injuries to the face, neck, chest, back and hands. Her current condition was described as "critical" and she is still in need of surgery, nearly eight months after the incident.
While some improvements have been observed in the remote and vulnerable territories across Burma, which are historically prone and geographically amenable for undocumented rights violations, the group claims that violations still happen regularly and enormous obstacles remain for rights workers. Laws targeting activists, arbitrary arrests and limitations on press freedom are recurring threats for rights defenders, the group said.
The first of ND-Burma's 2014 bi-annual rights reports shows little improvement from 2013, when 253 cases were reported throughout the course of the entire year.
https://ndburma.org/wp-content/uploads/2014/09/Karen-refugees2.jpg
468
640
ND Burma
https://ndburma.org/wp-content/uploads/2020/04/ndbLogo-296x300.png
ND Burma
2014-09-04 06:38:59
2014-09-04 06:38:59
Human rights abuses still 'rampant' in Burma: Report