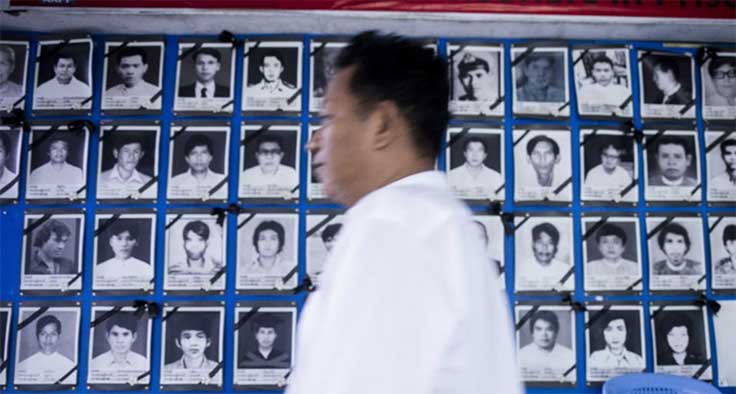 An organisation representing former political prisoners says they are not receiving the health care support they deserve from the government and is lobbying MPs to change the situation.
By HTUN KHAING | FRONTIER
FORMER POLITICAL prisoners have launched a campaign calling on the National League for Democracy government to provide care for thousands of former prisoners of conscience who suffered physically and mentally in jail when the country was under junta rule.
"We are trying to urge the government to enact a law that will authorise the rehabilitation of former political prisoners who were tortured for years in prison," said U Tun Kyi, 51, a spokesperson for the Former Political Prisoners' Society, based in Yangon's Tarmwe Township.
Thousands of former political prisoners are enduring hardship and some are seriously ill, he told Frontier.
"Some political prisoners who suffered from serious diseases did not receive adequate health care in prison and their condition worsened."
Tun Kyi is working with other FPPS members to compile a list of former political prisoners nationwide that includes information about their health. They plan to send the list to MPs so that the matter will be raised in the Hluttaw, he said.
Tun Kyi, a tireless advocate for former political prisoners, also manages the free clinics run by the Hantharwaddy U Win Tin Foundation.
Dr Myint Thein treats a patient at the Hantharwaddy U Win Tin Foundation charity clinic in Yangon. (Steve Tickner | Frontier)
The foundation, based in Yangon's Pazundaung Township, was formed in 2012 by the veteran activist, U Win Tin, who co-founded the NLD and later served 19 years in prison for his political beliefs. Win Tin, who was the patron of the NLD, died on April 21, 2014, aged 84.
Tun Kyi, who spent seven years in prison between 1989 and 1996, said poor quality food had also damaged prisoners' health. The health consequences of consuming non-perishable food and impure water over many years included liver, heart and lung diseases and diabetes.
"About 400 patients visit our clinic each month and 75 percent have heart disease, diabetes and hypertension," he said, adding that about 10 percent have lung and liver problems.
U Kyaw San, a former political prisoner who spent more than 13 years in Bago Region's Thayawady Prison, which had a reputation for being one of the country's worst jails, said there were long periods when inmates had no chance to eat fresh vegetables. Any food sent by family or friends would be kept for months by prison authorities, he said.
"We could only eat [dry] food, and even if it became mouldy we had to eat it because we had nothing else. As a result of eating food like this for about a decade we contracted a variety of diseases," Kyaw San told Frontier.
Many former political prisoners who live in and around Yangon rely on the clinic but those living elsewhere find it difficult to travel to the commercial capital to receive treatment, Tun Kyi said.
U Bo Kyi, joint-secretary of the Assistance Association for Political Prisoners (Burma), told Frontier that the government spends less than K1,000 per person per day on food for prisoners.
"You can imagine the impact that has on someone's life," he said.
Bo Kyi, whose organisation is advocating for prison reform, said other problems faced by prisoners included corruption, poor sleeping quarters and lack of access to proper showers.
"Some senior prisoners, they bully other prisoners. If you want medical treatment, you have to pay. If you want a good shower, you have to pay. These senior prisoners, they act as a broker for the prison staff," he said.
He said that authorities needed to be more transparent about the prison situation in the country.
"It shouldn't be secret; it needs to be open to the public. They need to open the doors so people can see the reality," he said.
Daw Aye Aye Thin at the Hantharwaddy U Win Tin Foundation clinic, which treats many former political prisoners. (Steve Tickner | Frontier)
Kyaw San said that although the FPPS and the foundation did what they could to help former prisoners of conscience, many had expected to receive support from the government after the NLD took office.
"If the former political prisoners, our friends, ask us for help, we have to look on with folded arms without being able to do anything," Kyaw San said, adding that the only help he can give is to tell people to visit the clinic.
The FPPS, which estimates that the national parliament and government includes at least 120 former political prisoners, accuses the NLD administration of ignoring the plight of former prisoners of conscience since it took office.
"Many MPs and cabinet members relied on the clinic before they were elected; they know the situation faced by political prisoners. Now they have authority they should help," said Tun Kyi.
The FPPS said that after Myanmar gained independence in 1948, the government recognised the role of political activists in the struggle against the British colonialists.
Tun Kyi said there has been no government recognition of the former political prisoners who struggled for nearly five decades against military rule. They have been marginalised and have not received adequate care for ailments caused by harsh treatment, including torture, in prison, he said.
Amyotha Hluttaw MP U Ye Htut (NLD, Sagaing-5) has been asked by the FPPS to raise the issues faced by former political prisoners in the Hluttaw.
"Many little-known former political prisoners were tortured in prison and have difficult lives, but people know only about those who became famous," he told Frontier. He added that the government plans to help them, but that it needs to collect information about what illnesses former prisoners have and what help they need.
Bo Kyi said that relations between his organisation and the government had improved somewhat in recent years, and that they now organise human rights training in schools, universities and government departments.
"There are still issues in many areas. For freedom of expression, it is still difficult. For freedom of assembly, it is still difficult, but things have improved a little. Before, we didn't trust them and they didn't trust us, but through meeting things have gradually improved," he said.
However, Tun Kyi said he is concerned that former political prisoners in poor health may not receive the care they need.
"Why isn't the NLD considering the case of former political prisoners? This isn't an issue that effects the constitution."
TOP PHOTO: Images of political prisoners who died in jail are displayed at the Assistance Association for Political Prisoners office. (Ann Wang | Frontier)
https://ndburma.org/wp-content/uploads/2018/02/Former-politi.jpg
394
736
ND Burma
https://ndburma.org/wp-content/uploads/2020/04/ndbLogo-296x300.png
ND Burma
2018-02-19 10:32:09
2018-02-19 10:32:09
Former political prisoners call for better health support