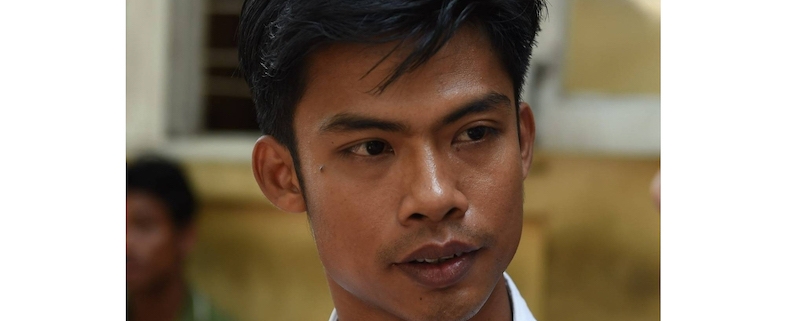 The additional sentence stems from false charges of terrorism, according to the wife of detained activist Lin Htet Naing
A court in Yangon's Botahtaung Township sentenced Lin Htet Naing, a former leader of the All Burma Federation of Student Unions (ABFSU), to an additional five years in prison on Monday, according to his wife.
The former student leader, who is better known as James in the activist community, received the sentence under Section 52b of Myanmar's Counter-Terrorism Law, his wife, fellow activist Phyo Phyo Aung, told Myanmar Now.
"By adding more years to his sentence, the military council is not only systematically and politically oppressing a democratic activist, but also fabricating fake cases to charge him with terrorism," she said.
She added that she still didn't know if he would have to do hard labour or if time served would be deducted from his sentence.
Lin Htet Naing was arrested in Botahtaung Township in June of last year and later charged with incitement under Section 505a of the Penal Code.
On December 7, a prison court based in Yangon's Kyauktada Township found him guilty of that charge and sentenced him to three years in prison.
The former ABFSU vice president was first imprisoned in 2008 after being arrested for his involvement in the monk-led Saffron Revolution of the previous year.
Following his release in 2011, he resumed his political activities, and was later handed six-month sentences in 2015 and 20202, with the latter ending just days before the military coup in February 2021.
On October 19 of last year, his mother, Kyi Kyi Myint, was among eight people killed when an explosive went off inside a reception area in Insein Prison, where Lin Htet Naing was being held.
Kyi Kyi Myint, who was known to many of her son's activist friends as "Amay Kyi," or Mother Kyi, was bringing him food at the time of the incident.
According to the latest figures compiled by the Assistance Association for Political Prisoners, a total of 15,117 people are currently being detained by Myanmar's military, of whom 3,713 have been sentenced.
https://ndburma.org/wp-content/uploads/2023/02/james.jpeg
389
800
ND Burma
https://ndburma.org/wp-content/uploads/2020/04/ndbLogo-296x300.png
ND Burma
2023-02-14 09:19:46
2023-02-15 09:21:39
Five years added to prison sentence of former ABFSU leader